Chris Dey Story
by Herb Fithian
Herb Fithian's letter to Chris Dey:
When we decided to go to Australia with #6 grandchild, I contacted their Society through our web site and was referred to Chris Dey by email. Chris sounded very warm and told me to call when we arrived in Sydney. We did and he came over the bext morning to our hotel. Chris took us for a mini tou of the sights in Sydney and then to his apartment because his boat is kept folded up in his garage. We met his wife Jen and spent some time with the boat.
As you can see from the photos, it folds quite a bit. He paid around $5000 for it. He can actually take it along as baggage when he goes to Japan, the site of the last championship race (he's going again this October). He doesn't like to ship the boat by sea because he wants to practise until the last minute to keep upo his skill.
When we went upstairs to Chris and Jen's apartment, we saw all the awards and the trophy and then discovered that Chris is the World Champion. He had never mentioned it. Jen had a wonderful lunch for us. They are very active and interesting people. Chris does research into alternative power for industry plus teaching at the University and Jen has started an accounting business from their apartment which is doing very well.
It probably isn't part of the story but Chris, in his letter, mentioned that he got his first moth from his parents when he was 13 just as I did. I am going to copy and paste the letter for you to see.
Herb Fithian
ps. cHRIS Dey's letter will appear after the pictures.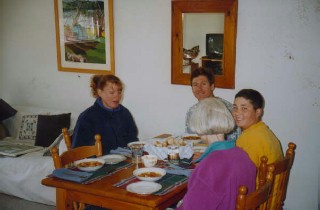 Lunch with Chris and Jen at their home in Sidney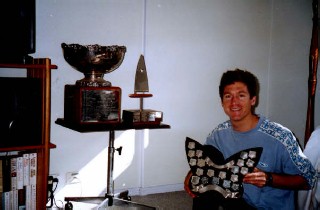 Australian Moths World Champion Chris Dey with trophys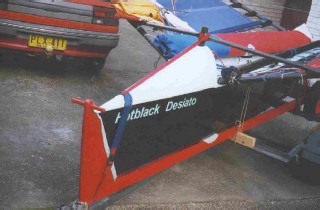 Chris's Moth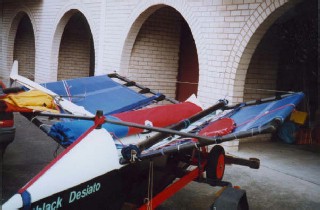 Boat Pic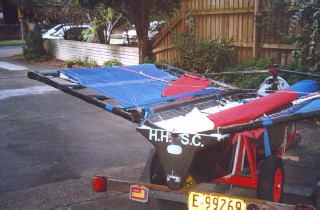 Boat Pic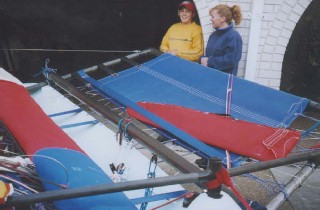 Boat Pic
Chris Dey to Herb
Dear Herb Fithian
Peter Kovesi forwarded your message to me.
Wow! - It is great to hear that you still have the boat and sail it regularly.
I am on the path to emulating you, but have a long way to go. My father bought me my first moth when I was 13, but that was in 1983. I too still have it, so there are lots of years to catch up with your record. I do plan on keeping it, though I don't sail her much.
I would love to meet you and see the boat. We are planning on sailing a bit over winter, with the next World titles coming up in Japan in October. I suppose you have seen the latest boats - they're vastly different to yours, but still follow the spirit of this great class. We can arrange to go for a sail together when you are here - but there aren't too many races on over winter - just training.
A few of us are going to Lake Keepit near Gunnedah on the long weekend for a mixed regatta. There was a bloke there sailing a moth occasionally a few years ago (he was about 70 then).
Perhaps we can arrange for something in Sydney on the 16th?
Where do you live and sail?
Kind regards, Christopher Dey
Chris
George Albaugh to Chris Dey:
Hello Chris:
George Albaugh here. It's about 2 AM my time. I'm at the lab responding to a freezer alarm on one of my -80 freezers and am just reading this while waiting for the temperature to go back down.
How about a photo or two of that first Moth Boat of yours to go with Herb's pics of your current boat on our website? I'm curious to know what design you started off with in 1983.
Back then skiffs like the Magnum Mk V were the new boats in Europe and boats like the Duflos, Shelley, Stockholm Sprite, etc. were what newbies were sailing over there. Down under, I'm guessing your first Moth Boat was a proper Aussie Scow!!!
In the USA, Moths went dead in 1978 and we didn't get started again with the classic (low aspect sail plan, no wings permitted) boats until 1989. In the mean time, we missed a whole generation of tall rig development. I'm afraid at age 55 I'm a bit past it for the current, narrow, tall rig boats--although I still keep an old Elfstrom high aspect sail and a needlespar mast in the garage. But I still enjoy racing the low aspect rigged Moths--they're plenty enough for an old goat like me!
Anyway, a picture of that first Moth, please!
Best regards,
George Albaugh