Pasquotank River Yacht Club
Classic Moth Boat Association
Elizabeth City Nationals

September 15 & 16 2001

Elizabeth City, North Carolina
---
This is it!!! The destination of the yearly migration of Mothies that began in St Pete, moved northward to Brigantine, south again to Charleston, and colmin ates in Elizabeth City, the birthplace of the Moth.

Each year Mothies make the trek to test their design, craftsmanship, and sailing prowess against the best of the best. Itís an opportunity to rub elbows with sailing legends current champions and future masters of the wind. Many swap tips, tricks, stories, boats and gear.

Itís a festive occasion, fun for the whole family. But warning! It does get serious when the boats hit the water with total focus on the start, the mark, and the finish.
---
Notice Of Race
Friday September 14
CMBA Vintage Regatta
First Race begins at 5:00pm
Saturday September 15
A Day On The River
Featuring the Classic Moth Boat
13th Annual Moth Boat Regatta
Hosted by: Museum Of The Albemerle, Inc.
Registration
Deck of Mulligan's
400 South Water Street
0900
Skippers' Meeting
1100
Racing Begins
Brown Bag Lunch (bring your own)

Entry Fees

$25.00
For one Boat
Benefits:(1) T-shirt & (2) Dinner Tickets
$20.00
For one additional boat sailed by
a family member
Benefits:(1) T-shirt
$15.00
If two boats are sailed by other family
members as listed above:
Benefits:(1) T-shirt & (1) Dinner Tickets

Please Note:

The museum will not swap entry fee benefits.
Additional T-shirts $13.00 each
Additional Dinner Tickets $10.00 each
Long Sleeve T-shirts $15.00 each

BBQ Chicken Dinner

Saturday evening from 5:00 to 7:00 the
Museum of the Albemarle will host a BBQ Chicken dinner.
Tickets are $10.00 each with all proceeds benefitting the
Museum of the Albemarle, Inc.

Awards

Awards will be presented at the BBQ Chicken Dinner.
Sunday September 16
Race Schedule
Sponsered by the Classic Moth Boat Association
| | |
| --- | --- |
| 1100 | Racing Begins |
| CMBA Awards | Additional CMBA Awards will be presented following the Sunday Races. |
---
DIRECTIONS TO ELIZABETH CITY NATIONALS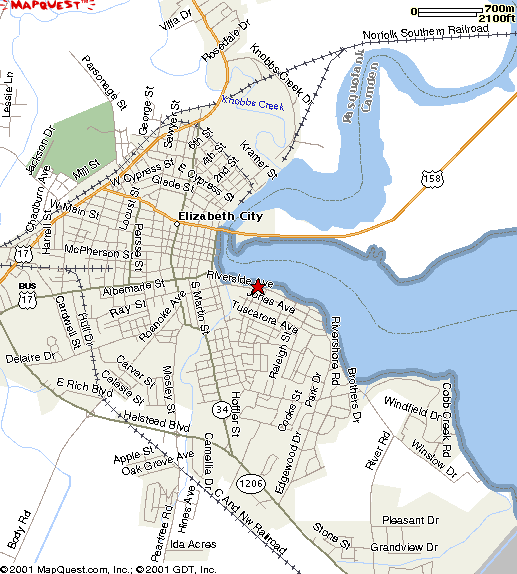 CAR ARRIVAL: The Site of the Elizabeth City Nationals is at 904 Riverside Avenue Elizabeth City, NC (252) 335-4221
From the North Ė East: Take 95 south to Richmond VA
Take I64 east to I664 Chesapeake, to I 64 west/ 17 south Chesapeake, Elizabeth City.
Simpler than it sounds. South 17 to Elizabeth city
158 east nags head, outer banks, waterfront.
Turn right before you cross the bridge, Water street.
Go straight till you see the new Museum of the Albemarle on the right
Turn left at the light. third house pass the junk/ship yard. ERK's
From East Georgia - Florida: Take I-95 North towards Beauford/Charleston....
At Rocky Mount NC take 64 east to 17
In Elizabeth City take 17 buss N. to the waterfront turn right.
At the pretty New Museum of the Albemarle on the right.
Turn left at the light
Third house pass the ship/junk yard is ERK's.
From Atlanta: Take I-85 North towards Greenville SC Charlotte NC
In Charlotte take I-40 East towards Raliegh
Take Raleigh Chapel Hill Exwy which becomes Wade Avenue
Take Slight Right onto I-440 North
Take US-64 East to 17
In Elizabeth City take 17 buss N. to the waterfront turn right.
At the pretty New Museum of the Albemarle on the right.
Turn left at the light
Third house pass the ship/junk yard is ERK's.
From Chicago: Take I-90 East| I-80 East | I-76 East
Take I-70 East exit 12 towards Breezewood Baltimore
Take I-270 South towards Washington DC
Merge onto I0270 Spur South towards I-495 South Northern Virginia
Take Capital Beltway
Take I-95 South exit 57a towards Richmond
Take I64 east to I664 Chesapeake, to I 64 west/ 17 south Chesapeake, Elizabeth City.
Simpler than it sounds. South 17 to Elizabeth city
158 east nags head, outer banks, waterfront.
Turn right before you cross the bridge, Water street.
Go straight till you see the new Museum of the Albemarle on the right
Turn left at the light. third house pass the junk/ship yard. ERK's
From Charleston SC: Take From Charleston SC; 17 north.
In Elizabeth City take 17 buss N. to the waterfront turn right.
At the pretty New Museum of the Albemarle on the right.
Turn left at the light
Third house pass the ship/junk yard is ERK's.

---

Erky Gregory - autoelec@albemarlenet.com
George Albaugh - albaugh@307.bhnrc.usda.gov
Walt Collins - collinsw@spawar.navy.mil
Greg Allen - gma@knology.net